Turning and Milling in one work centre reducing labour and setup costs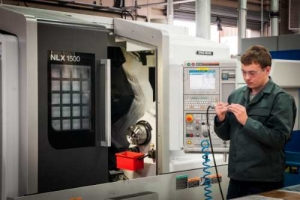 At Smithstown, we offer a high precision, highly automated CNC Turning and Milling services to companies throughout the UK and worldwide.
We provide turned parts to a wide range of customers in industries such as Medical Device, Aerospace, and Automotive and can handle a wide range to materials from tool steels or medical stainless steels to aluminium or medical plastics.
Our multi axis MoriSeiki and Okuma Mill/Turn multitask machining centres  allow us to offer our customers high precision parts with a high degree of automation resulting in with reduced setup times and reduced labour costs.
Smithstown UK Turning and Milling Capabilities:
Capabilities:
Mill/Turn Multitask machining centres


Max turning Ø 610mm
Max part length1500mm
Spindle speed 20000RPM
Capto Backend increasing stability and accuracy
Through Spindle Cooling

 Simultaneous 5 Axis machining.
Tool storage capacity = 76
Bar Feed rate 40mtr per minute

Quality

Six Sigma principles applied to volume production
9 x OGP Smartscope vision inspection systems
Controlled QC laboratory environment
Product validation per FDA guidelines
PPAP, First Article Inspections, CMM reports, detailed Inspection /Calibration reports supplied with every job.

 Materials Used

Wide range of Metals Machined

Carbon steels
Alloy steels
Tool steels
Stainless steel
Titanium
Aluminium
Copper, Brass, Phosphor Bronze and Cast Iron
Aviation Grade Steels – Inconel
Medical Grade Steels – 17-4ph, 440

Wide range of Plastics Machined

Acetals
Nylons
PTFE
PEEK
Tufnol