High capacity for high precision surface grinding
At Smithstown UK, we offer a high precision, CNC Surface Grinding services to companies throughout the UK. We provide precision ground parts to a range of customers in a range of industries such as Medical Devices, Aerospace, and Automotive. We can manufacture using a wide range to materials from tool steels or medical stainless steels to aluminiums or other exotic steels or hardened steels.
We have invested heavily in our surface grinding capabilities and have 7 Jung surface grinders (5 x J630D, 1 x Vario , 1 x JF520), we also have 5 Jones and Shipman surface grinders ((1 x Dominator, 2 x CNC & 2 x manual) and an Okomoto completes our grinding resources. Our skilled operators and wide range of resources ensure that we can precision grind a wide range of steels to within micron tolerances.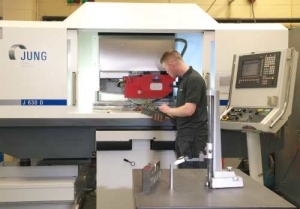 Smithstown UK Surface Grinding Services include our CNC Jung J630-D grinders
– offering a wide range of capabilities such as
CNC Surface Profile range- 600 x 300 x 300mm
Reciprocation type surface and profile grinding
Creep feed grinding
Contour path grinding in XY and YZ planes
Fully CNC controlled continious/ simultaneous wheel dressing.
PA-37  CNC controlled 4 Axis dresser which can be configured with a 5 tool diamond tool holder or with a rotating diamond wheel
Continuous automatic dressing (dressing and machining simultaneously) using the PA-37 ensures high precision and
High productivity for our customers by reducing retraction cycles from the work piece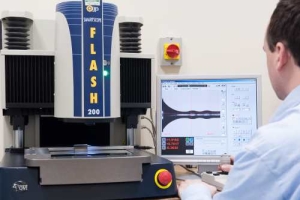 High Precision, High Quality Surface Grinding
As quality is at the core of everything we do at Smithstown UK, we have made a big investment in quality systems. This allows us to control the method of manufacture and ensure accuracy of measurement. We have integrated two Smartscope Flash CNC optical visions systems direct into our grinding department where our operators can check their work under 300x magnification.
The Smartscope can be programmed and these programs can be controlled if used as part of a validated manufacturing process. This ensures accuracy and repeatability  by automating the inspection process and reducing the opportunity for operator error