Our surface finishes include: 
– Vibratory Bowl Finishing
– Blasting / Bead Blasting 
– Linishing Wheels / Belt Sanding / Honing
We have a range of surface finish treatments which we can apply to your parts. We have
Rotary vibrating bowls onsite using various stones and bead to treat product surfaces (vibratory bowl finishing).
Several bead blasters, some of which are segregated and used only for medical devices.
Other surface finish processes such as

Linishing (polish or remove excess material by contact with an abrasive moving belt)
Honing (abrasive machining process used to  produce a precision surface) and
Extrude honing (interior surface finishing process using an abrasive-fluid which is directed a workpiece).
Some of our surface finishing operations are carried out in parallel with other operations in order to cut cost for our customers. For example, we provide linishing wheels at several of out work centres so that operators can work on surface finish while their machine is producing parts.
Blasting / Bead Blasting
Blasting can be used to break corners, remove sharp edges or removing slag or dross. It can also be used to provide a particular surface finish, i.e. a matte, rough or bright finish. The blasting process itself involves propelling an abrasive material through a nozzle using compressed air onto the workpiece. The type of abrasive media, the length of time and the proximity at which the nozzle is held, all affect the surface finish delivered from the process. Bead blasting uses a bead of a uniform diameter which can give a more consistent texture to the workpiece.
At Smithstown we have several bead blasters in use, some of which are segregated for use on particular medical product types we are manufacturing, Waste bead is removed from the chamber in real time by use of a vacuum but complete segregation guarantees no cross contamination of materials.
Vibratory Bowl Finishing
We have several vibratory bowl finishing machines, we use a range a abrasive media from fine to rough stone and can offer wet or dry processes  depending on surface finish required.
Linishing Wheels / Belt Sanding / Honing
We do much of our surface finishing in-process. Consequently, equipment such as linishing wheels are situated at work centres as well as in our surface finish department. Quality is ingrained in our process chain at every step not only at final inspection.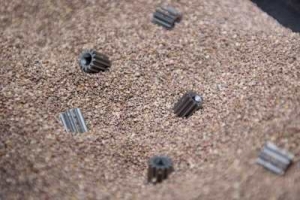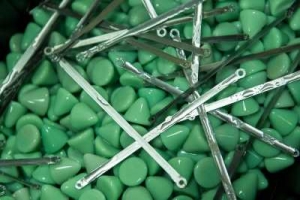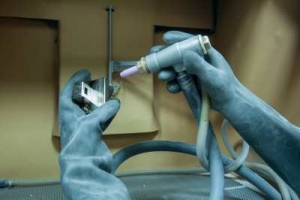 Find out more about our surface finishing services: