Tool Design – Team of experienced designers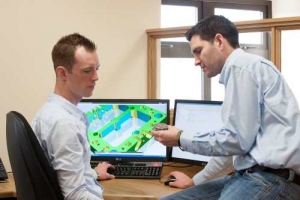 Through our Project Engineering / Customer Service (PECS) department and our design department, Smithstown UK offer a comprehensive project management and tool design service. Over our 40 year history we have gained extensive experience in designing (and manufacturing) tooling and/or products from a wide range sectors like:
Plastic injection mould design / tooling across all industries in our 40 year history;
Design and manufacture of moulded components for blood filtration;
Wax injection tooling for the lost wax moulding process in manufacturing knee implants;
Design of production line gauges, typically used in the manufacture of medical devices;
Design of precision jigs and fixtures used in production line environments;
Press tools and punching stations.
Our design team use a range of CAD packages such as Unigraphics NX and Solidworks, in which we have incorporated further software add ins to provide further insight for our customers
Mould Flow analysis,
Product Stress Testing and
Load simulation.
We work closely with our customers throughout the design process offering regular remote desktop sharing meetings to discuss design concepts with our customers. All our tool designs are validated using our simulation software before being released to production for manufacturing.
We strive to build lasting relationships with our customers.
At Smithstown we strive to build lasting relationships with our customers, our aim is to turn new customers into return customers. This can be seen in the fact that we are still dealing with several of our earliest customers for over 40 years and 50% of our customers today are repeat customers.
With regard to the design process, we believe an investment in quality design results in production of high quality mould tooling. High quality tooling will produce more consistent products and will reduce cost over the lifetime of the tool. High quality injection mould design which is also quality-built will:
Last longer,
Need fewer repairs,
Increase productivity,
Decrease scrap,
Increase quality of produced products.
By investing in high-quality injection mould design with Smithstown UK you will save money on every run.