Medical Devices Industry
Smithstown UK have over 25 year's experience working in the Medical Devices sector. We are critical suppliers to many of the biggest medical devices manufacturers in the world. Our range of expertise in this sector is extensive and varied; we manufacture a range of orthopaedic instrumentation and implants for our customers in those markets. We have also designed and built tooling and components for use in stent delivery systems, catheters and other minimally invasive delivery systems.
We have significant expertise and experience in designing and manufacturing wax injection moulds used in the knee replacement/implant manufacturing process. We even run the tooling, contract manufacturing wax parts for some of medical device customers.
Our clients in this sector include, Stryker Instruments, Stryker Orthopaedics, Johnson and Johnson Depuy Synthes, Boston Scientific, Medtronic, Merit Medical, Creganna Tactx, Zimmer Biomet and more. We are ISO9001 (Quality), ISO13485 (Medical Devices) & ISO14001 (Environmental Standards) certified.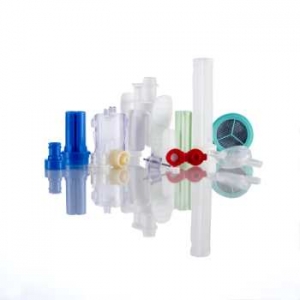 Injection Moulded Components – Blood Filtration
Smithstown are market leaders in designing and manufacturing injection moulds for blood filtration components. We have built considerable expertise in this market niche and have built dozens of tools for filtration components over our 40 years in business. Our customers in this market come back to us because they know our quality is guaranteed, Smithstown design and manufacture high quality moulds which will save our customers money with every shot produced. Customers in the market include Filtertek (ITW Medical Company), Listal (Borla), and more
Aviation Industry
Throughout our 40 year history we have worked on a wide variety of projects for various Aviation customers such as Lufthansa Technik, Bombardier, UTC Aerospace Systems, Shannon Aerospace, and more. We have a lot of expertise and experience in designing and manufacturing complex jigs and fixtures used (for example) to hold rotor vanes while being machined.  We have also build injection moulds used for manufacturing the moulded connectors used for airplane cable looms.
Automotive Industry
We have designed and built several injection moulds manufacturing moulded connectors for electrical cable looms and also components for windscreen wiper assemblies and other dashboard components. We have also built many precision jigs and fixtures used within the automotive manufacturing process.
Defence Industry
An example of a project completed for a customer in the defence industry involved the design and manufacture of an injection mould used to manufacture military battery parts. Smithstown were chosen for this project due to our expertise in designing and manufacturing moulds and procuring components used for filtration. This component involved two step moulding process including over-moulding of a filter paper which was being fed through the mould by a screen feed. This technology will likely be seen in use in consumer products in the near future.
Formula 1 motor racing Industry
5 Axis milling of aluminium engine parts used by the Red Bull Formula 1 Racing team. Parts were manufactured to very high tolerance on a very tight lead time.
Packaging Industry
Years of experience manufacturing high precision blister pack tooling for use in very high volume manufacture of contact lenses. We've also built injection moulds for several customers packaging their products. Our customers in this area include; Ferero, Vistakon J&J Vision Care, Millipore, and many others

Household consumer goods and appliance components
We have designed and manufactured dozens of plastic injection moulds for components such as consumer bottle tops/lids and soap pistons.