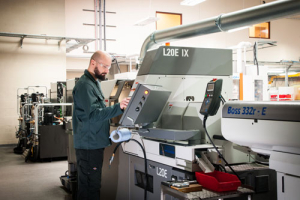 High automation = Low labour cost,  ….'Lights out manufacturing'
At Smithstown UK, we offer a high precision, highly automated Swiss Turning service to companies throughout the UK and worldwide. We provide turned parts to a wide range of customers in a range of industries like Medical Devices, Aerospace, and Automotive.
We can machine a wide range to materials from
tool steels or
medical stainless steels to
aluminium or
medical plastics
Our Citizen L20E LX Swiss Lathe can produce thousands of high quality high precision finished, turned parts each shift.
The Boss bar feeder ensures that the machine is fed with raw material at all times increasing production efficiency reducing labour overheads.
The L20E LX has a max part diameter of 20mm and a max length of 80mm. The subspindle allows for cross machining (simultaneous machining separate operations on separate parts being fed through the machine).
Our L20E LX is also configured with live driven tooling on a sub gang plate allowing very complex machining in one setup on one machining station.
Specifications

Max Part Ø = 20mm
Max Part Length = 80mm
Boss Bar feeder = lights out manufacturing
Batch Sizes = mid to high volume

Wide range of Metals Machined

Carbon steels
Alloy steels
Tool steels
Stainless steel
Titanium
Aluminium
Copper, Brass, Phosphor Bronze and Cast Iron
Aviation Grade Steels – Inconel
Medical Grade Steels – 17-4ph, 440

Wide range of Plastics Machined

Acetals
Nylons
PTFE
PEEK
Tufnol

Additional

Subspindle allows cross machining (simultaneously machining separate operations on separate parts being fed though the machine)
Live driven tooling on sub gang-plate, allow machining of complex parts in one setup on one machine.
Find out more about our precision turning services: