Spark Erosion Services
– Robotic pallet loaders keep our Agie Spark Eroders machining around the clock
At Smithstown UK our spark erosion cell is comprised of an Agie Hyperspark Exact and an Agie Innovation. Each machine is robotically loaded by our Erowa Multi Robot. The Erowa robot holds up to 30 work pallets and 200 electrodes. This capacity ensures ours skilled spark erosion team can keep the machines operational all week long with very little labour overhead. To further increase productivity and efficiency we preset and program all jobs offline using JMS Pro, there is rarely any need to have the machines stopped.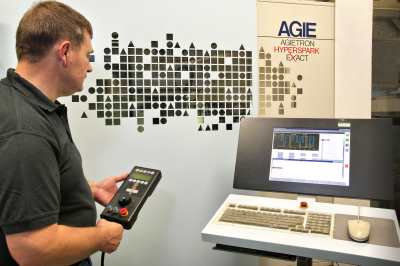 EDM Specialists.
Our machines have a travel capability of approx 650 x 250 x 350mm and a bed size of 600 x 450mm. Both our machines use Pulse Wear Control, technology which manages the rate of wear on the electrodes and improves accuracy on the work-piece. Both machines have an integrated C axis for increased versatility and can use Equimode (ability to machine simultaneously in different directions). We are also capable of sparking threads into a work piece (screw erosion). Each machine comes with a multi electrode mode which allows our sparking team to manage how many times an electrode is used before being swapped out for a fresh electrode, this helps ensure accuracy on the machined work-piece.
We will use our experience to work with you to find the best solution for your needs. Contact us, to speak directly to one of our EDM spark erosion services team.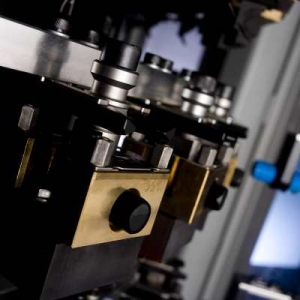 EDM Polishing using Agie Brill
Our Agie Brill machines are capable of producing a polished finish direct off the machine. This capability can save extra labour operations usually needed to work on the parts after spark EDM machining. Our machines can be set up to run all week long with very little labour intervention, and parts can be machined with a polished finish good to 5 µm.