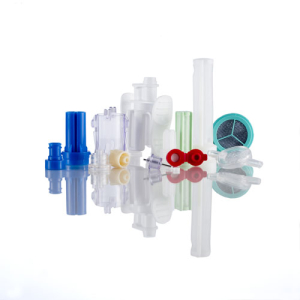 Plastic Injection Moulding Case Study
Sector: Plastic Injection Moulding
Case Study : 1 billion part count and still in active production
Customer Profile: Industry leading supplier of medical blood filters.
Part Description: Medical Vent for Intravenous line.
Our customer had designed an innovative new filter to allow gases escape from an intravenous line. High Product volumes were expected, due to the modular design of the vent. Quality tool design and manufacture were going to be key factors in the success of the product.
Smithstown Light Engineering helped in the final development of the product, and submitted a mould quotation based on its superior knowledge of in mould membrane punching & automatic screen feeding tool solution A proven track record in delivering on challenging projects was considered to be a factor in choosing Smithstown for the project.
Smithstown managed the entire project for our customer, designing and manufacturing a 64 cavity tool to produce the product to customer specification. The tool runs fully automatic; the only operator intervention is in membrane reel replacement.  The technical challenges in this project were in punching the membrane filter accurately and repeatedly, while also being able to maximise the membrane utilisation. Smithstown had the expertise and experience to prefect the process.
16 years later this tool is still in production and has recently surpassed 1 billion parts. In those 16 years the tool has not had any downtime due to tooling problems. Regular tooling maintenance, and a comprehensive mould manual, which highlights the necessary wear items has facilitated this impressive production run.
Due to the success of this project our customer chose Smithstown to build two other similar tools 10 and 5 years ago respectively, the latter being an impressive 128 Cavity mould with a horizontal membrane feed system. Given the track record of the existing tools, the customer should see a similar return on investment for those tools also.
Medical Devices Manufacture Case Study
Sector: Medical Devices
Case Study : High volume medical device manufacturing
Customer Profile: Industry leading supplier of medical devices.
Part Description: Precision component for a trans-catheter aortic valve implantation delivery system.
Project Description:

Our customer, a leading medical device manufacturer, is bringing a new heart valve to market. Smithstown are contract manufacturing a component used in the transcatheter delivery system. Smithstown competed with international vendors in bidding for the project. Our bid was successful due to the superior quality offerings we can provide. Statistical analysis, process capabilities, Ppk and other tools are used to control the method of manufacture in this project. Our proposal also represented best value for our customer due to the high level of automation and robotics used in our production process. Awarding Smithstown this project also represented a consolidation of vendors for our customer who was able to avail of a total outsource solution from Smithstown.