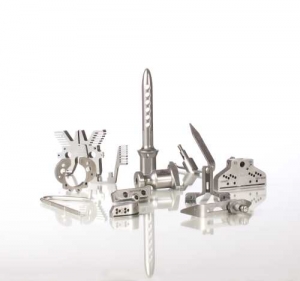 25 years experience manufacturing Orthopaedic Instrumentation
Smithstown have been manufacturing a wide range of Orthopaedic Instrumentation and Implants used in Total Knee and/or Hip Replacement surgeries for over 25 years. These long lasting relationships with our Medical Device customers are built on ensuring quality is at the heart of all that we do at Smithstown. We produce parts to our customers standards in small to medium size batch quantities when our customer requires them.
Contract Manufacturing Medical Devices
We also have over 20 years experience in contract manufacturing of medical devices to ISO13485 (Medical Devices) standards. We manufacture medical saw blade components according to a high volume kanban agreement with our customer. We also manufacture high volume parts for various different stent delivery systems. Our contract manufacturing offering is competitive due to the high degree of automation and expertise we are able to offer. We have made significant investments in our quality and continual improvement systems and training. This training includes topics like statistical analysis, process control, scientific measurement of process capability etc. Please read more on this on our contract manufacturing page
Quality
As quality assurance is a top priority for our customers, so too is it also top priority for us. Our Quality Management System is certified to the ISO9001 (Quality), ISO13485 (Medical Devices) and ISO14001 (Environmental) standards. This provides confirmation through an independent standards authority that that we have control over the method of manufacture of your product, and full traceability of any raw materials or purchased parts that are used in the production process.
As your manufacturing partner Smithstown can offer full validation of your product incorporating Production Part Approval Process (PPAP). This includes: Process Mapping, Risk Analysis, First Article Inspections, Process Capabilities, Gage R&R and Process Capability assessment (Cpk, Ppk).

Recent Projects
Examples of current contract manufacturing projects include:
Medical bone saw components – high volume contract manufacturing,
Precision component for a trans-catheter aortic valve implantation delivery system – high volume contract manufacturing,
Medical Orthopaedic Instrumentation – batch quantities
Precision turned parts produced in high volume on our Citizen lathe, used in stent delivery systems – highly automated process.
We have invested significant resources in ensuring our equipment and facilities exceed the requirements set to manufacture medical devices. Machine IQ/OQ's, calibrations, quality systems ensuring traceability and control in method of manufacture.