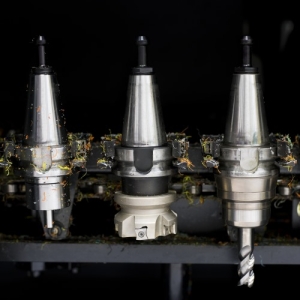 High Precision CNC Milling service on short lead times
At Smithstown UK, we offer a high precision, highly automated CNC milling service to companies throughout the United Kingdom. We have invested heavily in 5 axis machining centres and in robotic automation systems. 5 axis machining allows our engineers to machine finished parts in one setup therefore both reducing lead times and setup costs for our customers.
Our robotic pallet loading systems keep these machines running continuously for days. Resulting in reducing labour overheads for our customers.
All of our equipment is of the highest quality and produces highly accurate parts. We routinely work with tolerances up to ± 0.005 millimetres on finish milled parts. Such accuracy can remove the need for further grinding after the milling operation (another saving we pass on to our customers).
Smithstown offer a wide range of manufacturing processes and services, all under one roof. This gives us total control of the manufacturing solutions we offer.  Our milling equipment includes:
5 Axis Machining Equipment
6 X Mikron HSM400ULP
( 2 Production Cells with robotic pallet loader each)
1 X Mikron HSM600U Promod
1 X Mikron HSM200U LP
2 x Roders RXP 600 DSH 5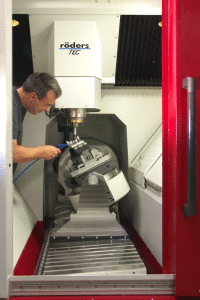 3 AXIS Machining Equipment
1 X Roders High Speed mill 42,000 R.P.M.
1 X Makino V33
1 X DMC1035V Ecoline
2 X DMG 70V HI-DYN
1 X MAHO C.N.C. Milling 600 Series
1 X Deckel FP4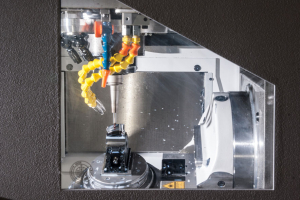 Why CNC milling service is more efficient for manufacturing your parts:
Reduced setup times
Improved lead times
Reduced Labour costs – (using our robotic pallet loaders )
Improved CNC milling Accuracy and Precision, machining parts in one setup allows greater accuracy of machined features in relation to each other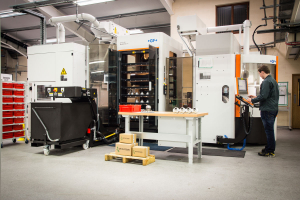 At Smithstown UK, our experience in CNC milling service covers a wide range of industries, including;
Medical Devices –  Contract manufacturing of medical bone saw blades.
–  Automation on our 5 axis production cell was key with minimal setup
Aviation – We manufactured a range of custom components for use in manufacturing rotor vanes.
– Accuracy between machined features had to be better than ±.005mm.
Medical Devices –  Smithstown UK Manufactured parts which were assembled into a stent delivery system.
– Product quality accuracy and reliability critical.
Formula 1 racing – 5 axis machining engine components.
– Short lead time and high quality parts.
Smithstown UK Capabilities:
Quality

Full material or purchased part traceability
Environmental and temperature controlled QC laboratory
4x Carl Zeiss CMMs with 3d scanning heads, ideal for reverse engineering and digitizing

Six Sigma principles applied to volume production
9 x OGP Smartscope vision inspection systems
Product validation per FDA guidelines
PPAP, First Article Inspections, CMM reports, detailed Inspection /Calibration reports supplied with every job.

CNC Milling Machine Capabilities

Linear Drive technology
Spindle Speeds up to 50k rpm
Laser measured tool management
auto calibration

Intelligent terminal control (monitoring and compensating for external environment)
chilled machining casting and spindle for increased accuracy.
Robotic pallet loaders for increased automation.

Materials Used

Tool Steels
(Medical, Automotive, Aeronautical)
Alloy Steels
Aluminum
Plastics (including Medical)

Carbon Steel
Brass
Bronze Alloys
Iron
Stainless Steel

Machinery


Mikron, Roders, Makino, Maho, MoriSeiki
Find out more about our milling services: