Micron precision inspection services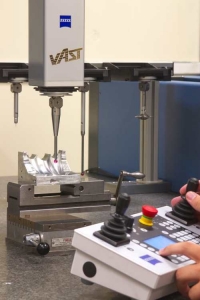 At Smithstown UK our inspection services equipment includes we have 4 Carl Zeiss CMMs equipped with scanning heads and 9 OGP Smartscope optical visions systems. We perform detailed final inspection on every shipment leaving Smithstown. Certificates of Conformance and Final Inspection Reports are supplied to our customers as standard. We can also supply material certs of conformance.
We have a policy of continually training our production operators in the use of the measuring machines so that in process inspections can be carried out using the finest of equipment available without any delay.
Subcontract Inspection Services
Aside from using these resources used in the production process we also offer inspection and calibration services direct.
Examples of inspection services we regularly perform for our customers;
Inspection of injection mould tooling,  CMM reports provide insight into tool condition. Our expert tool makers and project engineers are on hand to provide technical advice on any issues identified by the inspection.
Gauge inspection and calibration. Inspection of customer production gauges ensuring accuracy. Our first class manufacturing capabilities are on hand if rework/remake is required.
Product Troubleshooting – Our customers frequently ask us to perform an analysis of a product to ascertain whether it is made exactly according to drawings or whether there are any of the dimensions out of specification. Our analysis may find that the product is as per drawings but that a redesign or modification of some features may improve the product performance. Expert advice which only comes with years of experience in the industry.
Reverse Engineering – Our customers may have tooling in production for which they have no existing drawings or 3d models making it difficult for them to manufacture spare tooling. We provide a complete reverse engineering service, creating 3d model using data from our CMM machines. 3d profiling accurate to 2 µm over 5 metres.
Optical Vision Systems
At Smithstown we have optical vision systems embedded in our production departments. These vision systems can be programmed so that the visual inspection of parts mid production can be done in an instant. Inspection under 300x magnification can immediately identify dimensions which are starting to grow, indicating a change of tooling is required. We use high magnification to evaluate and display our customers surface finish issues.
Reverse Engineering / Digitising
Our customers regularly request us to reverse engineer and digitise components which for whatever reason they no longer have drawings or 3d models for . In such cases, we have Vast scanning heads on our Carl Zeiss CMMs which can scan surfaces accurate to 2 µm over 5 metres.
Contact us now to find out more about our inspection services.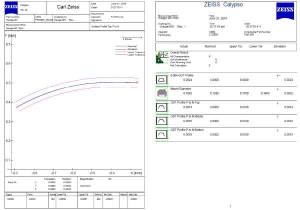 Calibration Laboratory

Smithstown's investment in industry leading inspection and measurement technologies allows us to offer our services as a calibration laboratory. We have a wealth of experience calibrating various types of production gauges used in medical device manufacture. We continually invest in our inspection services.
Our calibration service can be tailored to our customer's requirements but typically provides detailed CMM reports (see an example in the image on the right), profiling 3d profile within the tolerance band. Our customer can analyse the reports to identify where wear may be occurring on a gauging profile. We offer a very quick turnaround on gauge calibration and can offer gauge remakes where necessary.
Contact us now to find out more about our inspection services.