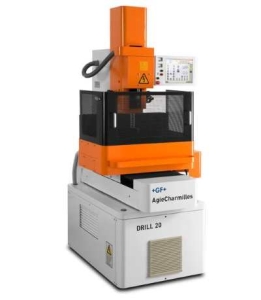 Drill Sparking wire start holes with a range of 0.1mmØ to 3.0mmØ
At Smithstown we have two drill sparkers constantly sparking wire start holes for our busy wire EDM department.  We also provide specialist subcontract drill sparking for our customers. Typical projects include drill sparking surgical needles, a project where we drill we drill spark holes as small as  0.3 mmØ  on centre in 5 mmØ pin, the 0.3 mmØ hole is finished size and is used by our customer to thread surgical stitches.
Drill sparking that can meet your needs: we have even sparked holes smaller than 0.3 mm. Another recent project involved drill sparking a series of 0.25 mm holes in a vacuum carrier block. The carrier block is used in a high volume production environment producing surgical syringes used by diabetics.
Our Agie Drill 20 has a travel size of 300 x 200 x 300 mm and is fully CNC controlled. The technology settings are selected automatically by the machine once the material of the workpiece and the electrode have been selected. Touching cycles can be programmed and called up using a few commands on the equipment control panel.