High Precision OD/ID and Centreless Grinding
At Smithstown UK, we offer a high precision, OD / ID and Centreless Grinding service to companies throughout the United Kingdom. We provide precision ground and turned parts to a wide range of customers in industries such as
Medical Devices (we grind medical implants used in total knee replacement surgeries),
Aerospace, and
Automotive
Smithstown UK can handle a wide range to materials from tool steels or medical stainless steels to aluminum or medical plastics.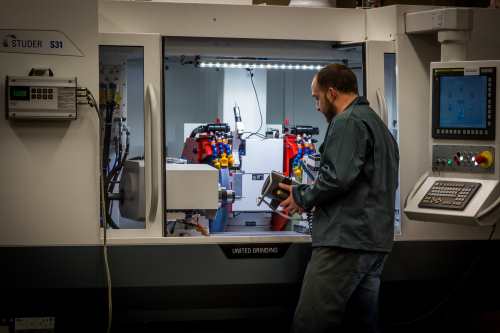 We have invested heavily in our OD/ID and Centreless grinding capabilities. In recent years we have added 2 x Studer OD/ID grinders (1 x S21 , 1 x S31). We also use Agathon centreless grinders and have a Jones & Shipman with a DedTru  grinder.
Our Studer  S21 and S31 OD/ID Grinders offer great versatility and in OD/ID precision grinding. We can grind parts up to a maximum of 650mm between centres and a maximum centre height of 175mm. The roundness accuracy is better than one micron at 0.0004mm. The Studers also use form and thread grinding software enabling high accuracy precision grinding of threads curves and polygons.
As quality is at the heart of everything we do at Smithstown we have installed a Carl Zeiss CMM direct into our OD/ID & Centreless grinding department so that our operators can check their parts using 3d models within reach of their studer workstation. These quality checks are recorded and filed along with all our in process inspection reports for each job. This ensures quality for our customers and production efficiency, making parts correct first time.